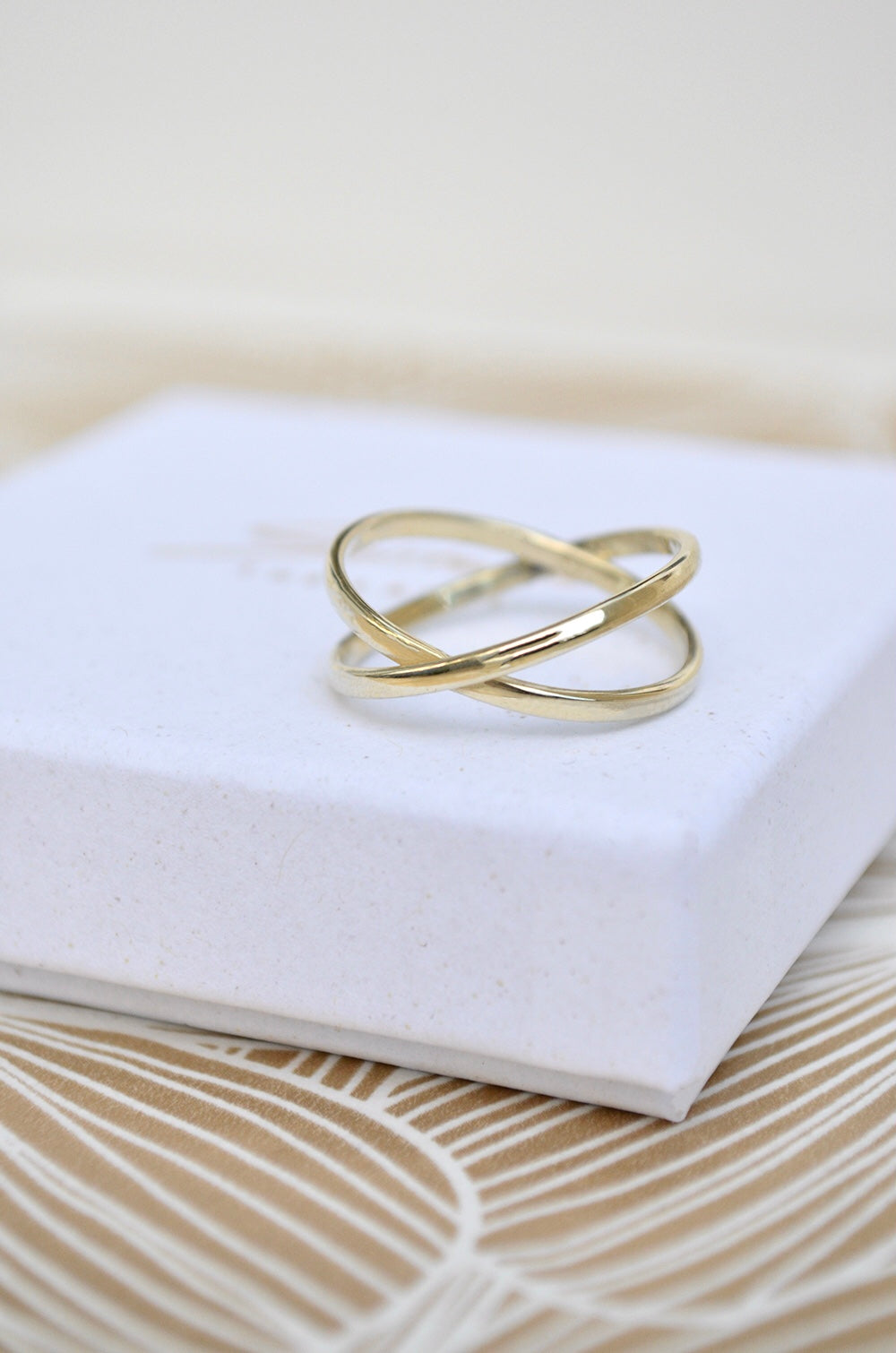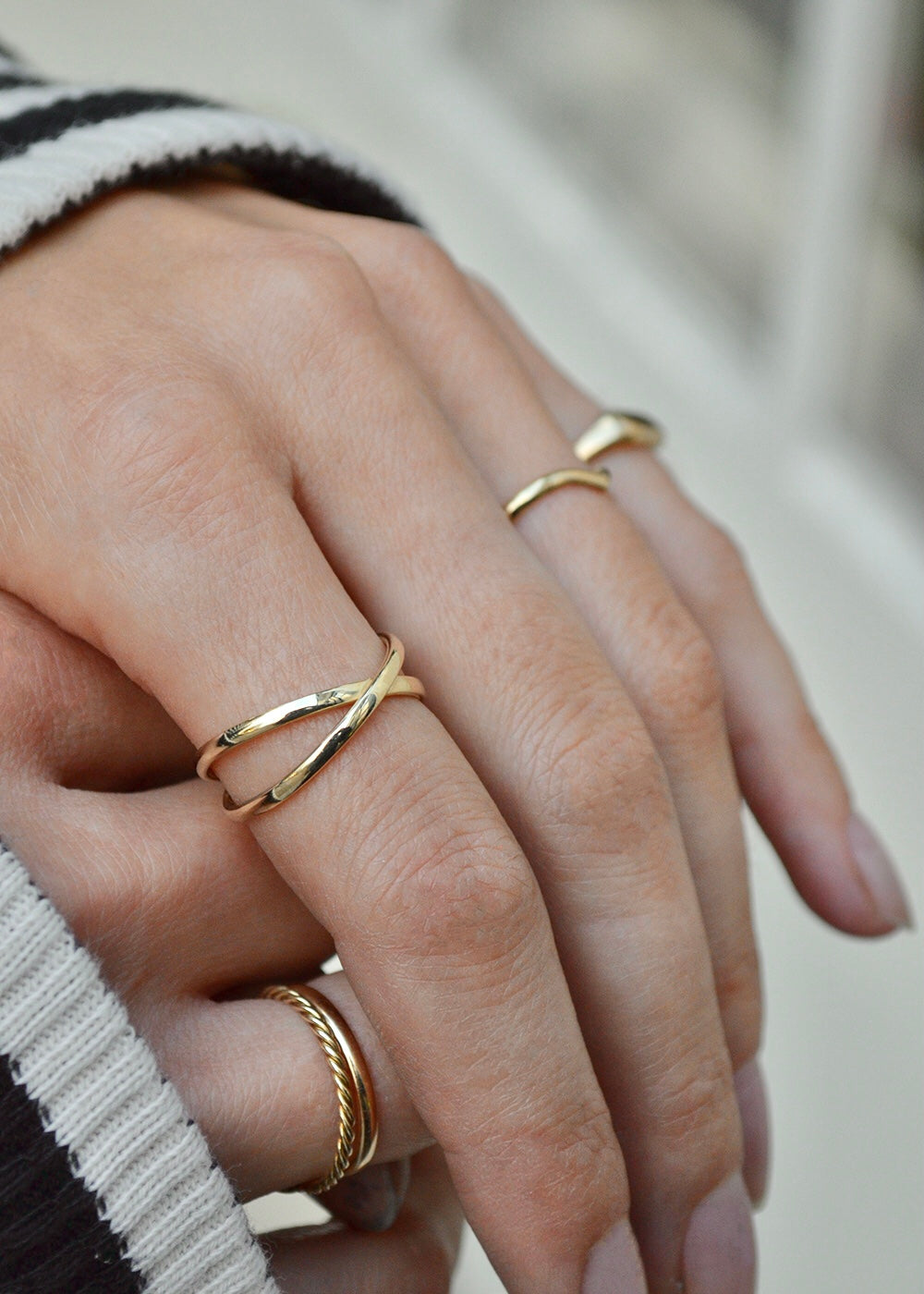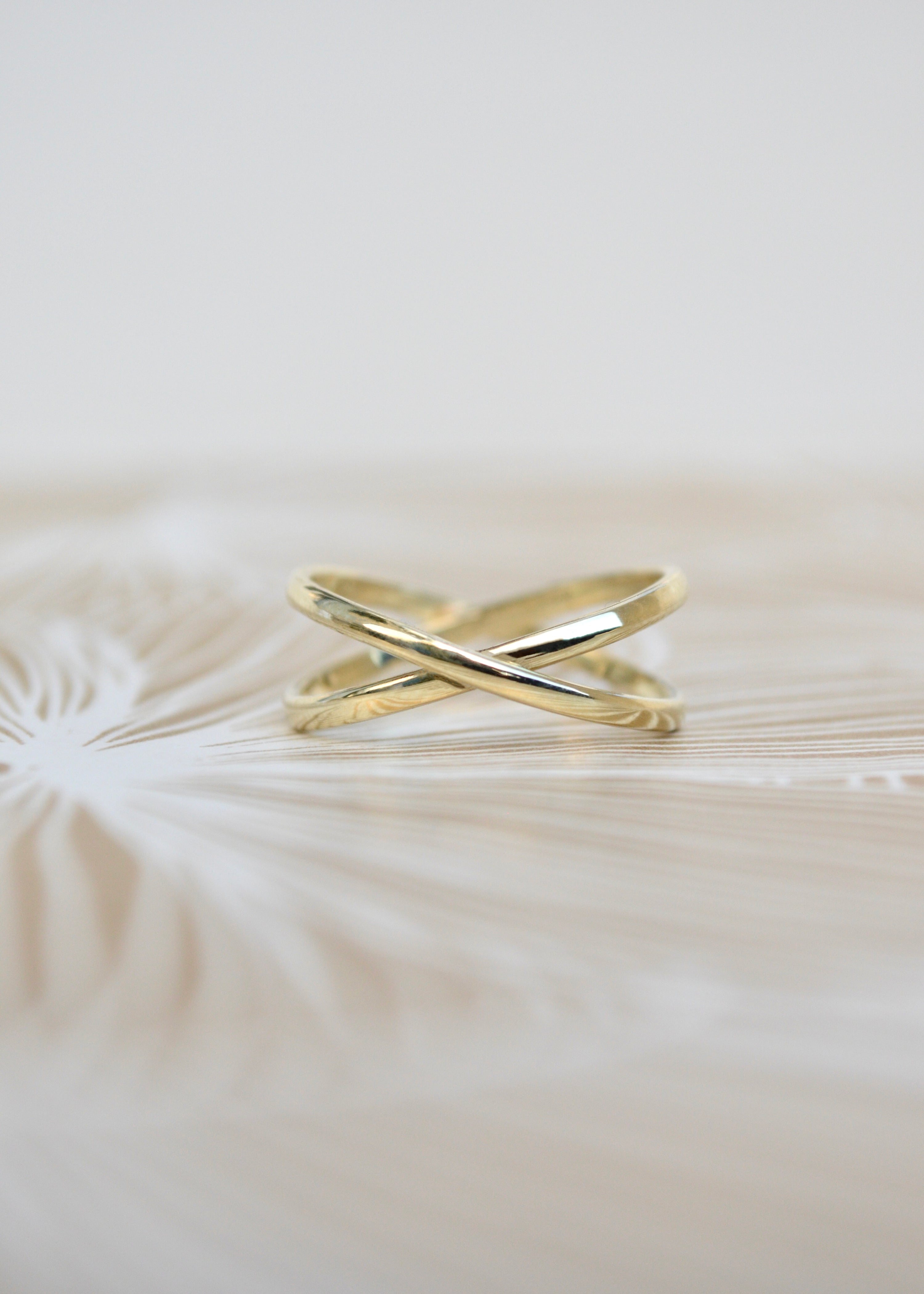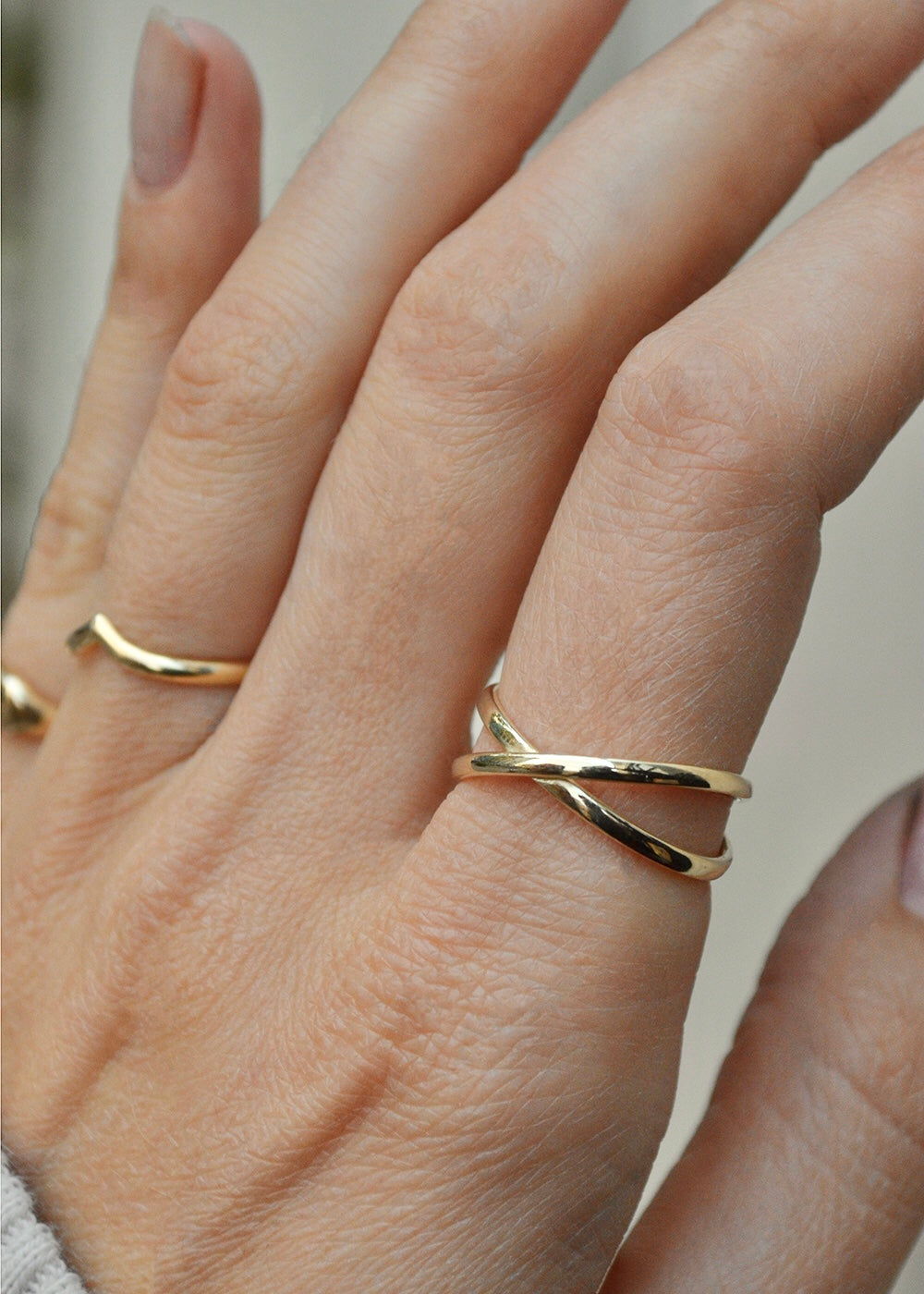 "No one can build you the bridge on which you, and only you, must cross the river of life. There is one path in the world that none can walk but you. Where does it lead? Don't ask, walk!" - Friedrich Nietzsche

We improved our Cross ring and decided to make a thicker version, this makes the ring stronger and more durable.

The Cross Ring has two bands that cross at the front and back. It's an elegant double ring made by us at the atelier. It has a classic and geometric feel. The ring is made of solid recycled gold and has the perfect thickness, so it will last for many years.
DETAILS
Material: Gold 14 carat
Ring: 2 mm thickness 
Ring size: 14-21
How to measure your ringsize
Measure an existing ring
Step 1. Select a ring that properly fits your intended finger. If you don't have a ring use one of the other methodes to find out your ringsize.
Step 2. Measure the amount of millimeters on the INSIDE of the ring. If there is 16,5 millimeters on the inside of the ring, you will need to order size 16,5.
Measure your finger
Step 1. Order your reusable ring size strip here fore FREE. 
Step 2. Wrap the string around the intended finger. Measure the finger around 3 to 4 times in order to increase accuracy. Maybe measure in the morning and evening. 
Step 3. Read the length of the strip and use our conversion table to determine your ringsize.
Come visit our Atelier
You are welcome to get your ring size measured at our Atelier. We have a convenient & professional tool to measure your ring size. Before coming to us, just make a quick appointment here.
Shipping costs
Shipping costs
Netherlands: €3,80
Europe: €9,95
Rest of the world: €14,95
Pick-up at our atelier in Amsterdam: Free
Free shipping within The Netherlands for orders over €150,-
Jewellery care
GOLD & SILVER
Our jewellery is designed to last for many years to come but all precious jewellery will naturally tarnish over time. Always protect your jewellery from knocks, scratches, chemicals, sunlight and heat/cold to minimize these effects. To maintain the lustre of the precious metals clean your jewellery regularly. How? Check out our jewellery care guide here.
GEMSTONES
Whether your prefer Diamonds, Coral, Opals or other coloured gemstones we got you covered. If you take good care of your gems you will be able to enjoy them for many years to come. So make sure to check out our jewellery care guide here.
Locally made with recycled materials
Our Atelier is our our office, atelier and showroom all in one. So this is also the place were we melt, form and solder recycled gold or recycled silver into your new piece of jewellery. Once you place an order we start creating and let you know when its ready for shipping or pick up.
Read more
On the road to circularity
"Our ultimate goal is to be completely circular; only and solely using 'old' gold and silver jewellery of our customers to make beautiful new pieces of jewellery."
More about our sustainable journey